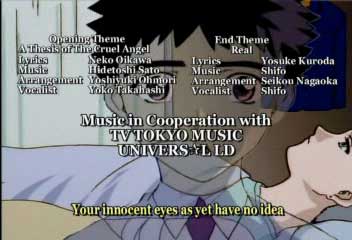 Normal Version:
DivX AVI 320x240 11.4MB
MPEG1 352x240 24.2MB
Split Screen Version:
DivX AVI 640x240 14.9MB
MPEG1 640x240 29.9MB
Dual Opening
Music: "Zankokuna Tenshi no These" by Hidetoshi Sato
Footage from: Dual! Parare Runrun Monogatari
Finalist in the Comedy/Parody category at FanimeCon 2001
Director's Ratings:
| | | |
| --- | --- | --- |
| Technical | Artistic | Timing |
| 9 | 7 | 10 |
Director's Comments: When I first saw Dual I knew how derivative it was. Most people called it Tenchi Muyo meets Evangelion. Well, maybe at some point I'll do a Tenchi Muyo opening, but that wasn't nearly as interesting as the Eva opening, so I decided to do this one.
If you watch the side-by-side comparison of my video and the original Eva opening, you'll see that there's an accuracy of ±1 frame on all my cuts, and the scene compliments I chose are impeccable, if I do say so myself. Also, all the credits are accurate for Dual (except the opening song, of course) and the subtitles are using the exact same font, porportions, and positioning as the original (you can overlay them on top of eachother can be accurate to 5 pixels).
Yes, everyone whose seen this has told me I'm crazy. I haven't argued with them on that point. =)
All in all the 1:30second video took 4 days to do.